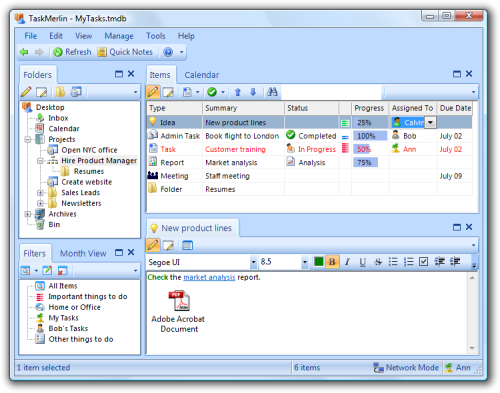 For your personal organization a very basic program might be enough, but some eye candy and extra features won't hurt. I have recently heard about
TaskMerlin
, a Windows application that fits the bill, from simple to-do lists to complex collaborative project management. As a bonus, it looks really great —this really helps making your organisation more attractive.
When you start TaskMerlin you are welcomed by a Tip of the day, a good way to learn its features and how to use bit by bit:
The program interface is divided in five panels and a common icon / menu bar on top. This is the default view, but you can activate or deactivate the separate panels as you wish:
The top left window is a folder structure where you access your documents and folders. If you open the included example file, this space includes an Inbox, where any thought can be temporarily captured, waiting for processing, a Projects folder with topic or place subfolders, where you save your current projects, an Archives folder for reference, storage, ideas that you set aside, etcetera, and finally a Trash Bin. Of course you can customize all these folders or rename them at your convenience.
Once you open a Project, the second panel, top right, presents a list of the different tasks and action it includes. The data associated to each task is comprehensive, but you are not required to introduce all the possible fields: type, context, status, priority, summary, progress, assigned to, due date...


You add new tasks, actions, projects or items like research, purchases, information, events, administration... right-clicking in this top right panel. The list of possible items has been thoroughly populated for you, so it's very likely that you'll find exactly the specific item you need to add for any project, be it purchasing something online, doing maintenance work on your terminal or whatever task you might think of:


The bottom left panel lets you filter and one-click access to your saved items, based on their associated fields. For example, you can get a list of what you have to do today, next actions, what needs to be done in a specific context...


If you need to create a filter, TaskMerlin provides a step-by-step wizard that will guide you. This Wizard will pop up when you hit the "new filter" icon on the Filters panel:
In the bottom centre panel, the contents of notes, actions and other items are displayed. Unlike other utilities of this type, TaskMerlin provides a rich text editor that gives you a fine control of the appearance of the notes, including a mini text editor. These notes can also include pasted objects, links, time stamps...
The last panel, on the bottom right side of the window, is a properties panel called Document. It displays all the characteristics of a given item. The sheer amount of information you can associate to any item may look overwhelming, but it just means you can choose whatever information you really need and leave the rest.
My overall impression is of a well-designed and robust program that offers very advanced capabilities, and goes hand in glove with the GTD methodology. Yet at the same time, you may choose to use a subset of its features and a simpler interface, hiding the panels you don't need.
The program requires Microsoft .NET framework and it is available at the moment only for Windows Vista, XP, 2000, Server 2003/2008, Me, 98. There are two editions, one personal and one professional version, plus an evaluation version. A
comparison matrix
is available. All of them can be downloaded from the
TaskMerlin website
.